2018.07.03


Columbia University: the Campus of light, without walls, open to the city.
The layout is designed from UniFor glass partitions that subdivide the large meeting rooms and interactive spaces.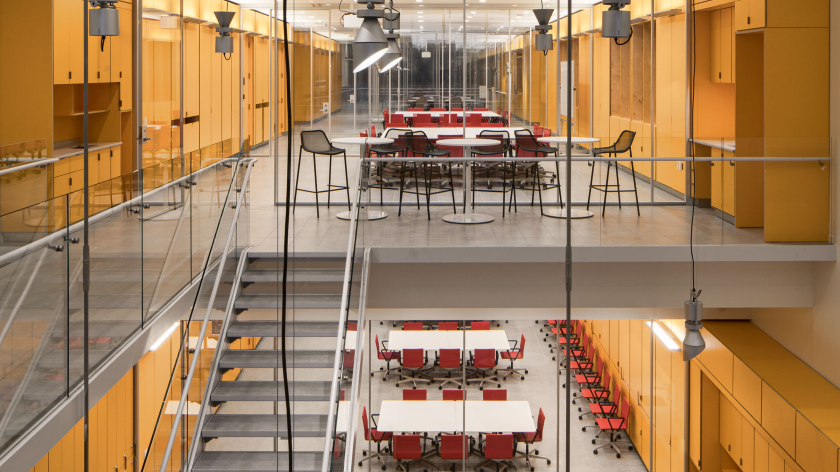 "Here, between the old Packard automobile factory and a pioneering dairy with the very first pasteurization plant and an all-white tiled facade, the problem was recuperating an abandoned industrial site and converting it into a university campus – explained Piano. An academy with neither walls nor gates: accessible to visitors and with numerous cultural programmes open to those who live in the district."
And Campus it was, a poster building which will boast a special office, for Barack Obama.
The renovation of Columbia launched by its President Lee Bollinger– insists on a surface area of over 130 thousand square meters and is part of a maxi programme that aims to revolutionize the roughly seven-hectare stretch of West Harlem that goes from here right up to the banks of the Hudson and involve some of the greats of contemporary architecture.
The Campus, which also includes the laboratories and offices of the Jerome L. Greene Science Center – architecture and interiors by the Renzo Piano Building Workshop in partnership with Davis Brody Bond, Body-Lawson Associates - has a marked urban and manufacturing connotation, a sort of shared factory of knowledge, made of glass and steel, with a multimedia gallery, exhibition and conference spaces and a theater. A building divided into four quadrants, which becomes a lantern, a beacon of design, projects and know-how, open, accessible, multicultural and multifunctional.
Designed to foster interaction, sharing and cooperating between lecturers, scholars and students, the layout is designed from glass partitions that subdivide the large meeting rooms and interactive spaces overlooking the central area, offices, operational areas and research laboratories placed around the perimeter.
The identifying feature is the floor-to-ceiling Parete RP partition walls designed by RPBW produced by UniFor– over 1500 linear meters – of natural anodized aluminum, with various finishes, single or double glazing, soundproofing, with or without fanlights, used with great functional and design flair. The building's hi-tech connotation and attention to sustainability are reflected in its LEED Platinum certificate.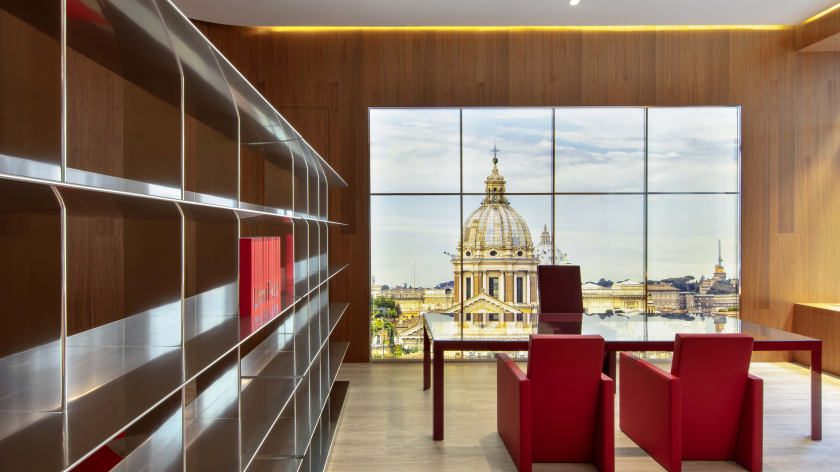 2021.02.01
"Executive Office", a new installation by Ron Gilad for UniFor
UniFor's showroom on 160 Madison Avenue hosts a new installation by Ron Gilad. A Naòs table and bookcase by Pierluigi Cerri, Elementaire armchairs by Jean Nouvel Design, and a vast window displaying the beauty of Rome, are the only elements used for the installation entitled "Executive Office".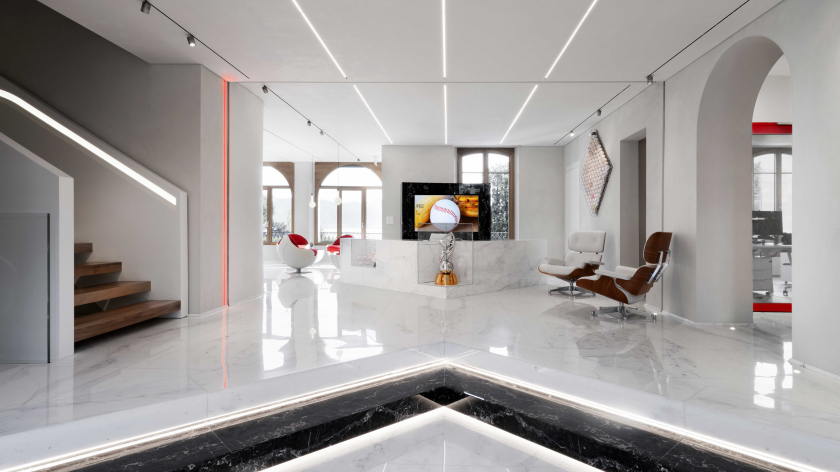 2020.11.18
The Molteni Group furnishes the new WBSC headquarters
The WBSC project started from a formal and sensorial challenge to encapsulate the history of this sport and its inclination for the future in a single tangible architectural gesture. The new headquarters is located inside a historical building on General Guisan Avenue overlooking Lake Geneva in Lausanne.