2018.06.11


Debut with chair
Making his debut as a designer for Molteni&C, Francesco Meda, born 1984, presents Woody, a solid wooden chair made of two woods, natural ash and black ash, seat and backrest also made of wood and seamlessly jointed.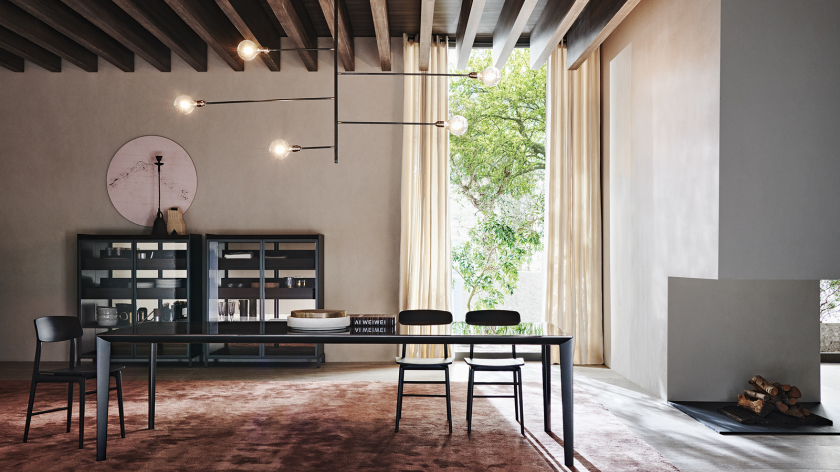 Making his debut as a designer for Molteni&C, Francesco Meda, born 1984, presents Woody, a solid wooden chair made of two woods, natural ash and black ash, seat and backrest also made of wood and seamlessly jointed. Light and simple, like Meda's design philosophy.
"I focused on achieving "airy" sections to reduce the material used to a minimum, not wasting wood, which is a precious material", says Francesco Meda who illustrates his project here.
How did your Woody chair come about?
Woody was created to enrich the Molteni&C collection with an ergonomic chair, made of solid wood, inexpensive but of good quality, functional, pleasing and contemporary, with technological value and in tune with the brand mood.
How did you manage to meet these requirements?
We obtained this result thanks to the technologies available today, in particular the use of five-axis machine tools, which help to reduce the sections and achieve ergonomic forms, trying to use as little material as possible, only where necessary. As a whole, the aesthetics of the chair is organic, it looks as though it is made all in one piece, but in actual fact, it is all jointed, there are no screws. Today's milling cutters give you the freedom to work on geometric shapes that were once very complex. We wanted to make something different but outstanding, that would lead to a new chair, with a very simple construction rationale, and enable the seat and the backrest to be changed, using either wood or leather.
Can you describe the process that led you from the design to the prototype and then to the product?
In order to have a lightweight chair, suitable for any environment, taking into account the constraints of an expensive material like solid wood, we tried not to exaggerate the dimensioning. For example, when we had the first prototype made, we realized that the sections had been enlarged, because the prototype maker was afraid that the chair wouldn't stay upright, then we saw that we could have reduced the sections, as in the initial drawing. It was a matter of reducing, sculpting and removing material.
What is changing in the design world with the advent of 3D printers?
By 3D printing moulds, you can cut the mock-up processes and achieve an end product. For example, I designed the Woody chair with a 3D parametric program – which, if there is something to change in the dimensions, enables you to change everything based on just one dimension, it holds the story within it – this allowed me to make a model on a 1:5 scale to really understand the proportions. Then the realization speed is interesting: you can give a file to a supplier, who automatically inserts it into a numerical control machine to obtain the piece on a 1:1 scale. These technologies help to achieve the result, shortening the processes and thus saving time compared to the past.
"When Charles Eames designs his chair, he doesn't just design a chair, but he designs a way of being seated", wrote Ettore Sottsass. How do you tackle such a complex project?
The experience gained with my father when he worked with Vitra was very useful. An experience that taught me to focus on the ergonomic aspect. Woody is made of wood, usually a chair made of this material is very rigid and not very ergonomic, whereas Woody is very soft, the seat has two curves that make it more comfortable and functional.
Cooperation between Alberto and Francesco Meda, father and son, began 10 years ago. What have you gained from this professional partnership?
We enjoy a very interesting exchange. Working with me, my father has a more youthful and contemporary outlook. I am lucky enough to have access to his know-how, his human and working relationships, which are very difficult for a young designer to establish. Ours is not a typical studio, because my father has always worked alone, so there is a sort of workshop familiarity, that made everything much easier when I started working with him in 2008. My father is a very generous person, he gave me breathing space and that is how we started working together. It's a fair "give and take" relationship.