2017.10.16


Floating Cube | 10 years 10 artists 10 works
The Quadreria Contemporanea (Contemporary Picture Gallery) of Molteni&C showcased with a new display concept by Ron Gilad and curated by Cristiana Colli.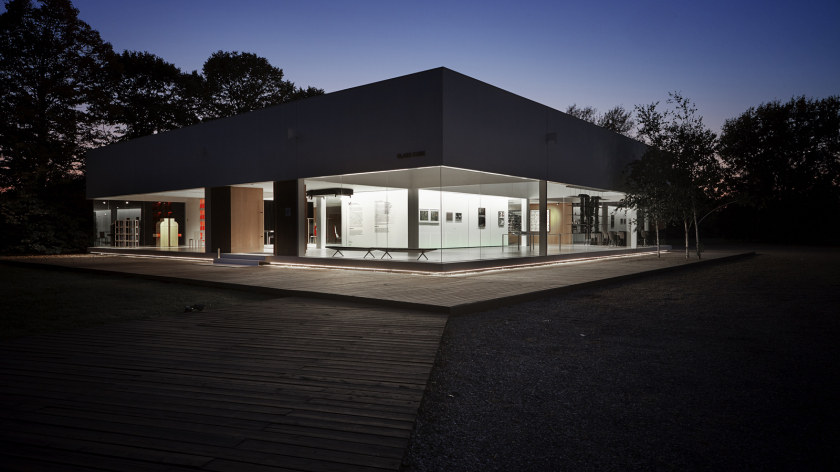 Inside M&C, the large-format multicultural, plural and bilingual periodical invented by Luca Meda for 10 years has been brooding, intimately and in secret, a photographic committee, Visual Art, which counterpoints every edition, every Furnishing and Design trade fair and show.
The project was inaugurated in 2006, conceived and curated by Cristiana Colli, a gift that is inserted in the centre of the magazine, a collection that is shared, accessible, diffuse.
So the Quadreria Contemporanea was a work in progress that has manifested the experience, the idea of collection, the style of collecting, the network of collectors unpredictable, hybrid, mobile.
Now, from the M&C mega-mag, the collection arrives in Giussano, presented in a site specifically designed for Glass Cube, called "Floating Cube", with a display concept by Ron Gilad.
"A white cube at the heart of a glass one,
floating above running water.
A room without entrance or exit,
an unexpected space for hanging art"
Ron Gilad
A space within an existing space, unexpected and floating on a few centimetres of water. A square volume that landed in the centre of the structure that becomes an art gallery.

There are twenty photographic works on display, with just as many Molteni&C products featured, created by Paola De Pietri (2007), Francesco Jodice (2008), Antonio Biasiucci (2009), Olimpia&Miro Zagnoli (2010), Alessandra Spranzi (2011), Barbara Probst (2012), Davide Pizzigoni (2013), Botto&Bruno (2014), Mario Carrieri (2015), Olivo Barbieri (2016).

Molteni Compound
Via Rossini 50
20833 Giussano (MB)
Mon – Fri, 10.00 – 16.00
By appointment: museum@molteni.it
Hashtag
#FloatingCube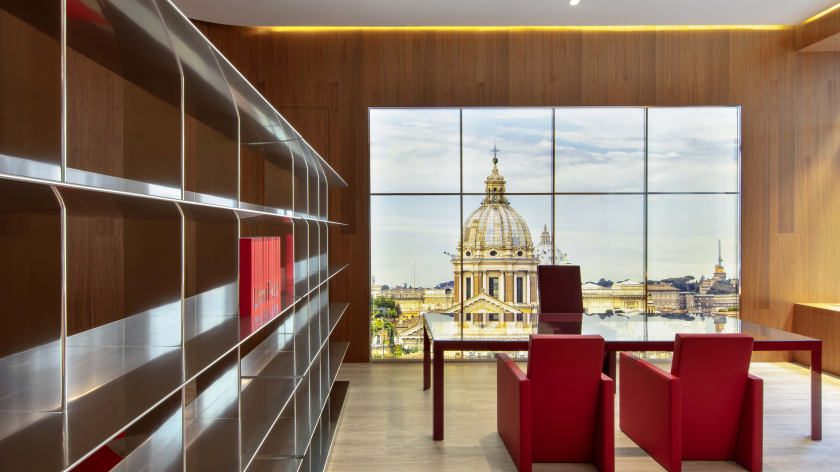 2021.02.01
"Executive Office", a new installation by Ron Gilad for UniFor
UniFor's showroom on 160 Madison Avenue hosts a new installation by Ron Gilad. A Naòs table and bookcase by Pierluigi Cerri, Elementaire armchairs by Jean Nouvel Design, and a vast window displaying the beauty of Rome, are the only elements used for the installation entitled "Executive Office".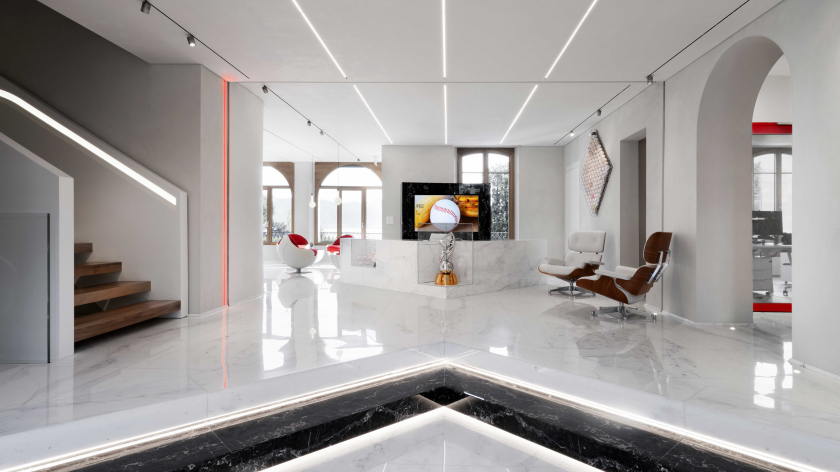 2020.11.18
The Molteni Group furnishes the new WBSC headquarters
The WBSC project started from a formal and sensorial challenge to encapsulate the history of this sport and its inclination for the future in a single tangible architectural gesture. The new headquarters is located inside a historical building on General Guisan Avenue overlooking Lake Geneva in Lausanne.