2018.06.20


Frontiers Media, Lausanne, 2017
Citterio designed new wooden desks, components and colours that foster a harmonious work environment.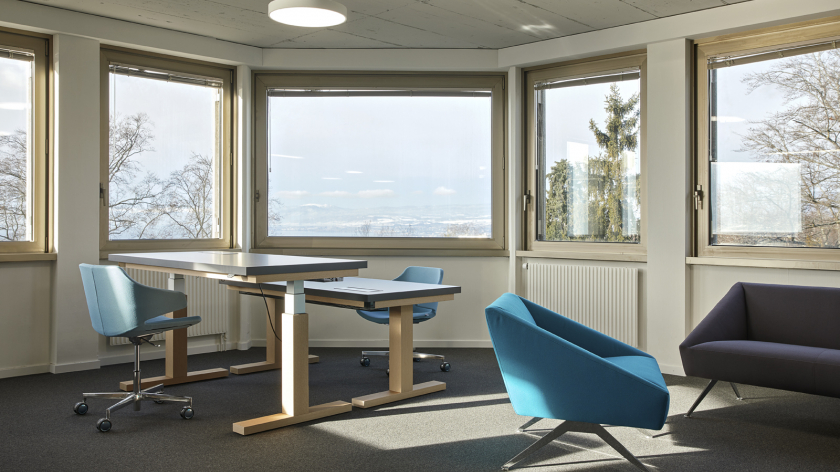 Frontiers Media represented a revolution in the world of knowledge, access and transmission, especially in the scientific field. The multi-award-winning Open Science platform, among the largest open-world publishers on earth, created in 2007 in the cultured and specialistic Lausanne, is today a reality with over 400 contributors from 41 countries – and with offices in Madrid, London, Seattle, Brussels, Trivandrum and Beijing. The parent company in Lausanne is a special place for over 300 people, a symbol of that frontier spirit that is also maintained in the architectural translation of Marie-Eve Laurent – Mel Architecture – sustainable approach, clean and simple aesthetics.
The headquarters are centrally located, alongside one of the city's largest public parks – chosen to facilitate commuting and to absorb vital energy – in a 1980s' building, distributed over three floors, completely revolutionised and rendered hi-tech and open-access, in line with the group's philosophy.
Thus the exposed piping and wiring are the nervous system that supervises links between the meeting areas, consisting of long glass partition walls, in a space that is at once unique and made up of an ordered sequence of permeable and transparent islands. In a way that privileges relations with the outside – the pleasant views outdoors are restful for eyes and minds alike – and between its parts, pathways, common spaces and individual workstations. With solutions that unite walls and long-handled wooden doors, glass, coloured sofas and chairs – yellow, orange, red, blue and green of various intensities.
The lay-out of the common spaces revolves around a central block, which ensures an optimal flow of energy inside the building, and, along with the strategically placed acoustic panels, keeps noise levels centralized and under control. The workstations – around the central block and along the windows – optimise the use of natural daylight and offer a spectacular view over the lake and the mountains. Close attention to all the issues to do with livable spaces, sustainable energy and the overall quality of the environments, with that same attention that distinguishes Frontiers Open Science publishing programmes, the involvement of thousands of scientists from the world's top universities on themes related to sustainability – renewable energy sources, research and development, marine conservation and climate change. This philsophy includes ambitious programmes such as Open Science for Sustainability 2016, for large-scale research and publishing, which covers the United Nation's 17 sustainable development objectives. Marie-Eve Laurent managed to give this policy of culture and responsibility both soul and representation with an architectural concept inspired by Essential Design, using mostly wood and glass, construction materials and furniture produced in Europe. For the interior furnishings, Citterio created new wooden desks, components and colours that foster a harmonious work environment.
BOX: W-SS, Design Pinuccio Borgonovo
Sound System is architecture within architecture. A system of products that fit into work spaces, with different functions and forms, in an independent and integrated way. W-SS is an acoustic box with a solid wooden framework, which develops and translates the concept of workplace naturalness and wellbeing, within an intimate, evocative and peaceful space.