2017.06.28


Headquarter TwinSet
Citterio and Molteni&C furnish the TwinSet – Simona Barbieri building in Carpi.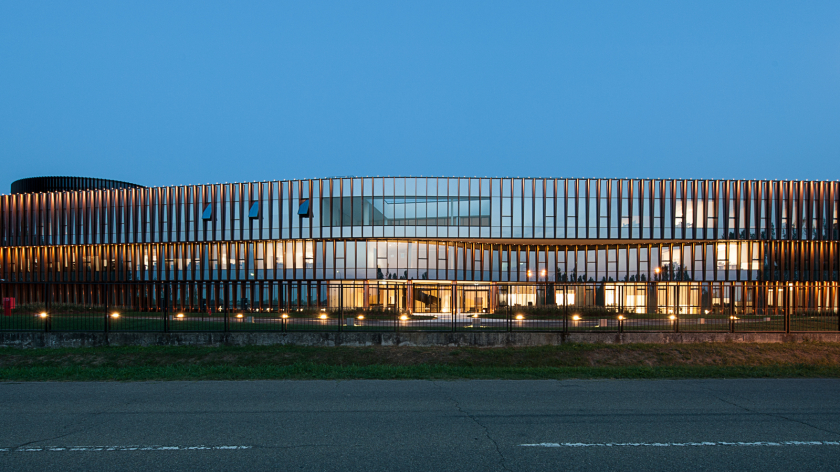 Clues to Italy's metamorphosis and the transformation of its landscape include its industrial buildings – design and development laboratories that challenge functional issues, sustainability and how to effectively represent the corporate dimension. Privileged locations in the middle of nowhere, alongside infrastructure nodes and strategic mobility routes – motorways, freeways, high-speed stations. Stories that have made history: the Kilometro Rosso on the A4, Sergio Rossi and Technogym on the A14, Max Mara alongside the Calatrava bridge and Chiesi on the A1, Salewa on the A22, Prada on regional road 69 in Valdarno. It is a map of manufacturing specializations, illustrating value creation processes and the developments of that dynamic Italy that believes in architectural quality and wagers on the quality of the Italian products that the world appreciates.
The A22 is a symbolic route for business stories and connections with Europe; Carpi is knitwear; the professional knitter is an archetypal figure of Italian molecular capitalism at the time of the economic boom. TwinSet – Simona Barbieri is a great Italian story that began in the early 1990s – first knitwear, ca va sans dire, then, bit by bit, total look. The new headquarters, which overlook the A22 – designed by BP Architects – is a luminous keyboard by night, a spaceship with three staggered storeys of glazing, modulated by copper sun reflector blades, which wrap right round the building, adding dynamism and plasticity to the volume. It is also a smart recycle of the classic 70s' concrete industrial shed, variously demolished and rebuilt, seismic upgrading and shed roofing bearing photovoltaic panels that cover more than 70% of the premises' energy needs. A virtuous building in terms of eco-sustainability and energy efficiency, with innovative hi-tech solutions, and of the functional organization of internal practicability. The more than 15.000 square metres of the executive complex house the administrative and sales department offices, creatives and style, the showroom with catwalk area, the prototyping, photographic set and sample collection rooms, the canteen and a fitness area. Pristine white interiors, featuring formally rigorous Citterio furniture, provide a continual counterpoint between natural wood floors, floor-to-ceiling glazing and minimal and efficient workstations. The second floor offers more spectacular spaces: reached by means of a sinuous spiral staircase that rises from the spacious hall, you enter the representative areas with a terrace for events screened by the continuous façade. A reserved and cosy area then provides meeting rooms and spaces for the Board of Directors. View over the A22 Brennero motorway.