2018.06.13


Italy's tallest skyscraper at CityLife
UniFor furnishes 2500 workstations and 45 executive offices in the new Milan's Allianz Tower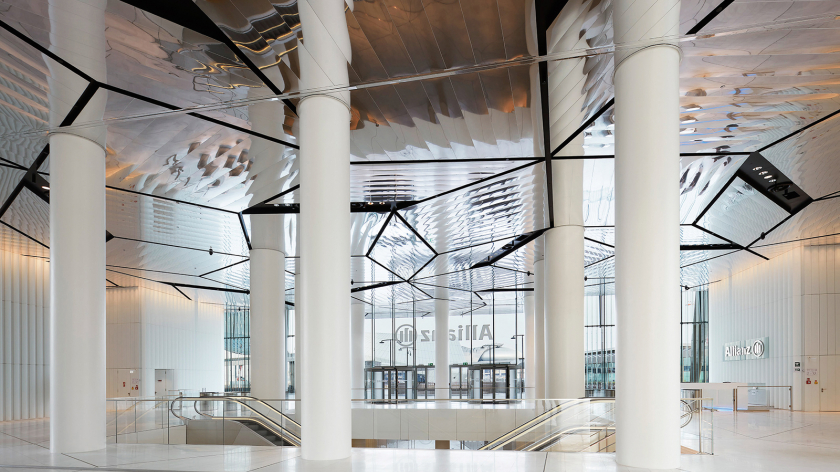 Classy architecture from Arata Isozaki&Associates with Andrea Maffei Architects; a masterpiece of engineering that will go down in the textbooks. The Torre Allianz – interior design Allianz Loredana Francia, DEGW, Eva Birch, Marco Amosso Milanese HQ of the German insurance group of the same name, rises in the center of the CityLife district, making a striking contribution to the city's new urban skyline.
Il materassone, [the big mattress] as it is affectionately dubbed by the Milanese – 26,000 m2 of curtain wall facades, consisting of 4,500 convex modules with triple-glazed structural cells, geometrically deformed by means of cold bending – with its 209 meters, is the tallest skyscraper in Italy. Taking one of its 14 supersonic lifts – positioned symmetrically on its short sides, peak speed 7m/s – is a similar experience to pre-take-off acceleration, and the view from up there is pure contemplation. The 55-storey tower stands on a 24×60 m rectangular plan with 5 storeys underground, and sixty-two 31-m poles beneath them. The construction engineering process involved automatic climbing formwork systems. The dialogue between great architecture and great engineering produced specific papers and studies, as well as sophisticated tests; these included the wind study conducted in Canada and in the labs of the Milan Politecnico, from which it emerged that the overall displacement ascertainable on the 50th floor would be equivalent to 100 cm. Consequently, the design team decided to introduce 4 huge, calendared, tubular steel buttresses, approximately 60m long on the main front and 40m on the rear. They are the 4 gold struts – an iconic feature of the Milanese skyscraper – hinged to the base, and installed in a precisely pre-arranged hole, with a possible margin of 2.5 cm per side. Precision workmanship indeed.
The building is distinguished by its slender, rarified shape and formal lightness, accentuated by the long, narrow rectangular plan which concentrates the distribution and vertical connection areas at the ends, coinciding with the lift landings, and leaves the central part between the two facades completely free. The workstations – aligned along the glass walls – make the most of natural daylight and delineate a rational and comfortable space, while in the center, the glass and softly shaded partitions define the executive offices and protected spaces for meetings.
The 2500 workstations and 45 executive offices make the most of natural daylight and define a rational and comfortable space with mass-produced UniFor products – iSatelliti, Nàos System, and the Parete AP floor- to-ceiling partition which, with its 10,000 sq m, defines the identity and style of the offices.
The Allianz tower has received Gold level LEED environmental certification.