2017.07.12


Maison Balenciaga
The complex of the historic Hôpital Laënnec in Paris is home to the new headquarters of the fashion house Balenciaga furnished by UniFor.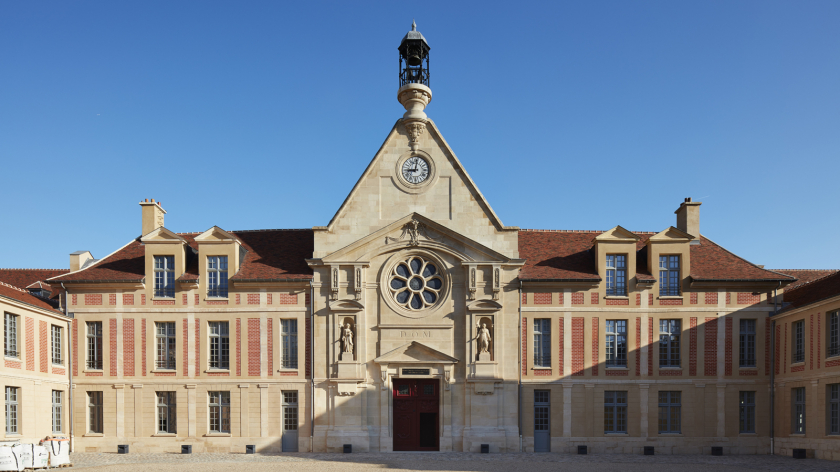 Part of a recent major urban redevelopment project, the monumental complex of the historic Hôpital Laënnec in Paris, built in 1634 by Cardinal de La Rochefoucauld, is home to the new headquarters of the fashion house Balenciaga.
In addition to preserving the architectural character of the exterior, this adaptive reuse project also showcases distinctive interior elements, with the large wood trusses and beams left in full view.
The design of the workspaces dialogues respectfully with the historic building elements, resulting in a decidedly elegant environment in which the finishes and monochromatic furnishings play a decisive role. The careful design of the custom workstations and the refined structural solutions and technical performance of the partition systems ensure high standards of comfort and functional organization, as befits the fashion house brand.
Series products
Parete AP Modular floor-to-ceiling partition wall system with polished aluminum structure and satin-finished double glazing with insulating cavity; swing doors.
Custom works
Modular workstations with satin-finished tubular frames, worktops in white laminate, drawer pedestals and divider panel in stained wood, in matte black with visible grain; conference tables, square in rectangular; storage and filing cabinets, and open shelving.
Open-space workstations: 254
Executive office: 1
Conference rooms with square tables: 20
Conference rooms with extra-large rectangular tables: 7
Storage and filing cabinets: 128 low; 172 high
Parete AP: 600 sq m
Swing doors in satin-finished glass: 30
Design&Architecture
Interior architecture: 4BI & Associés
Mobiliere Création Bruno Moinard Editions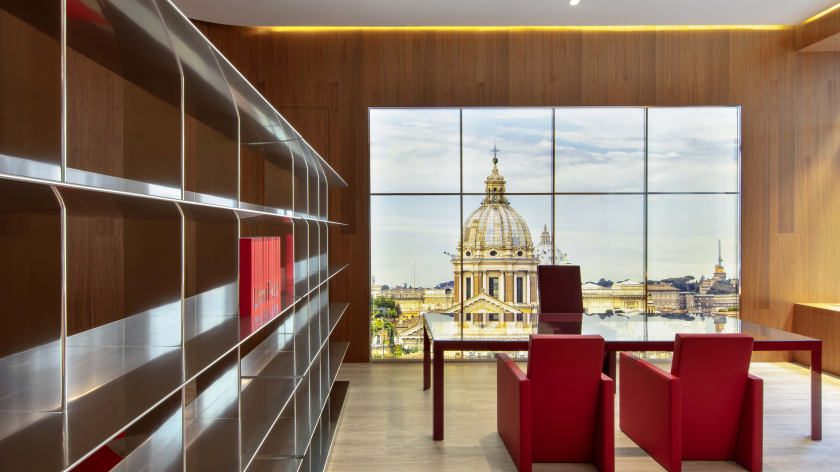 2021.02.01
"Executive Office", a new installation by Ron Gilad for UniFor
UniFor's showroom on 160 Madison Avenue hosts a new installation by Ron Gilad. A Naòs table and bookcase by Pierluigi Cerri, Elementaire armchairs by Jean Nouvel Design, and a vast window displaying the beauty of Rome, are the only elements used for the installation entitled "Executive Office".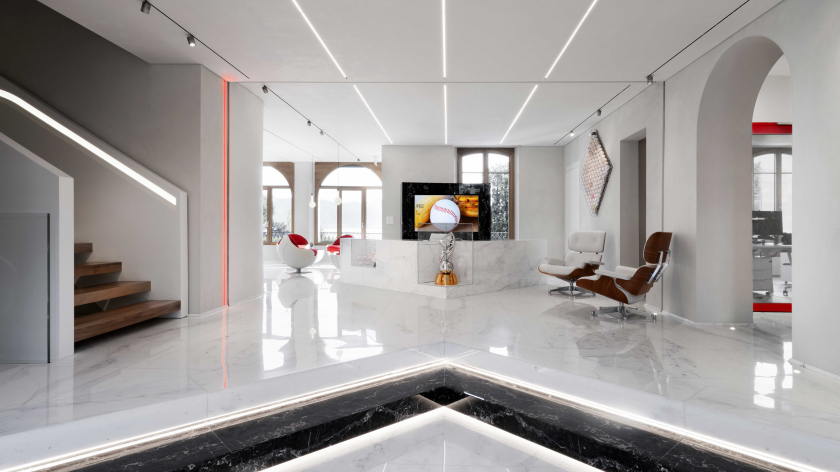 2020.11.18
The Molteni Group furnishes the new WBSC headquarters
The WBSC project started from a formal and sensorial challenge to encapsulate the history of this sport and its inclination for the future in a single tangible architectural gesture. The new headquarters is located inside a historical building on General Guisan Avenue overlooking Lake Geneva in Lausanne.