2019.11.19


Molteni&C|Dada furnishes the Arua Private Spa Villas
Molteni&C|Dada furnishes the Arua Private Spa Villas, the ultimate escape opened in August 2019 in Merano, South Tyrol, offering panoramic views of the Adige Valley up to the Dolomites. The Arua Private Spa Villas are member of Design Hotels, a curated collection of over 300 hotels in more than 60 countries which are true originals, whose passion, sensibility, and vision shine through in the minutest details of the guest experience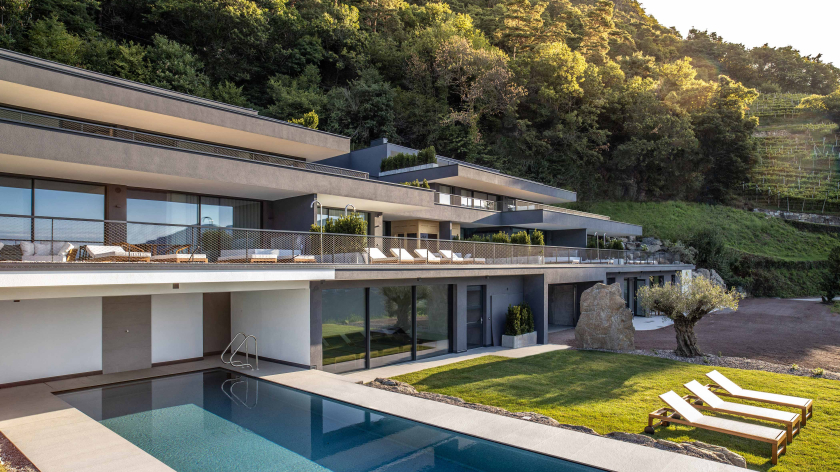 Surrounded by vineyards, olive trees and orchards, which provides space for an infinity pool with a stunning view, it is an place to regenerate and recover. While large and open spaces create a connection with the vast landscape, natural materials provide a pleasant and soothing atmosphere.
The four smaller villas consist of 140 square meters of living space plus 100 square meters of terrace and garden, while the two penthouse villas, consisting of 2 floors, offer 200 square meters of living space plus 300 square meters panoramic terrace and private rooftop spa where guests will find their own personal oasis of well-being. The Arua project takes inspiration from observing the beauty and the uniqueness of the traditional buildings in that specific part of northern Italy, where the prevailing concepts have always been the unobtrusiveness of the constructions and the respect of the surrounding nature. With stylish design classics, timeless furniture and lovely details, Molteni&C|Dada and the owners have created an exceptional place amidst a scenic idyll. Each element has been thought through to the smallest detail and realized with the Milanese designer and interior designer Nicola Gallizia and above all pieces from the Molteni&C|Dada collections. The villas enclose the very iconic offering of Molteni&C|Dada and symbolize a life marked by Italian flair.
Each of the six flats have been conceived as independent residential units that do not interfere with each other. The idea was to give each of them the maximum of natural light, through large windows and the spacious terrace as well as high end finishing using natural colours and materials, in full respect of the circular-economy concept. Highlights in the sophisticated living areas include the dynamic Albert seating system, the elegant Paul and the iconic Turner sofa, along with Chelsea chairs, Woody chairs and tables Arc, Diamond and Filigree. Design offerings alternate a curated selection of the Molteni Group's Heritage Collection, including D.154.2 armchairs and D.655.2 single units. The night areas feature a sequence of sophisticated Anton , Ribbon and Honey beds, together with prestigious Gliss Master wardrobes. For the kitchen spaces, Dada reserved scenographic Prime Kitchen with islands and quartztite tops, enhanced by wood and laminate finishes.