2018.12.07


Nature | Michele De Lucchi, L'anello mancante
Engineered and fabricated entirely by UniFor, L'Anello mancante is inserted into the dim light of the exhibition space like a Gothic cathedral rising magnificently up from the fabric of a medieval village. MAXXI, Galleria Gian Ferrari, Rome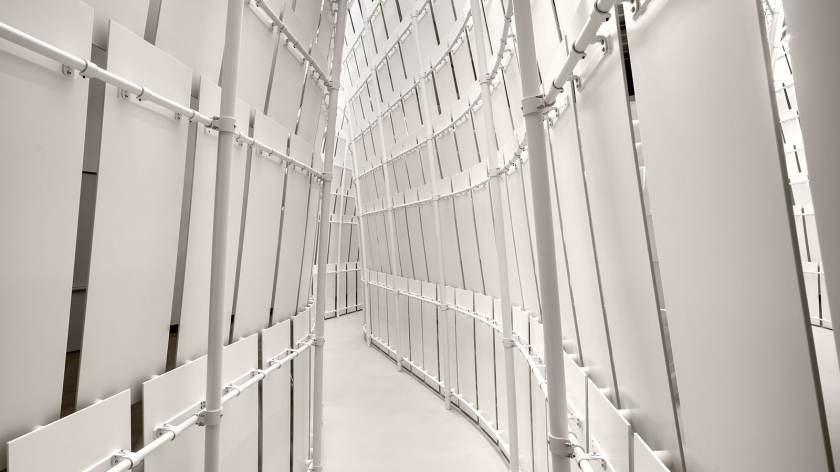 "A missing link is the element that connects distant parts of a broken, open chain. We need them often these days. More and more links are needed to connect the multiple ramifications of social, political, economic, cultural and even moral relationships. But we also need links that can physically connect, in real life, the ideas of fullness and emptiness, of closed space and open space, of container and content." The above is how Michele De Lucchi introduced the design theme of his site-specific installation for this edition.
Engineered and fabricated entirely by UniFor, L'Anello mancante is an installation consisting of a metal construction covered with a shell of rectangular shingles in HI-MACS® solid surface material.
L'Anello mancante is inserted into the dim light of the exhibition space like a Gothic cathedral rising magnificently up from the fabric of a medieval village. Evoking a tall and slender work of architecture, a sort of tunnel with a parabolic section, it curves around the room occupying nearly all of its floor space and volume. In plan the construction represents an enclosed pathway through an open link, to be entered from one side and exited from the other.
"The ogival section of the wall creates the effect of an enclave, like a basin turned upside down that inevitably impels you to look up. The form projects your thoughts upwards, towards infinity."
Nature
Michele De Lucchi
L'anello mancante
MAXXI
Galleria Gian Ferrari, Rome
7 December 2018
3 March 2019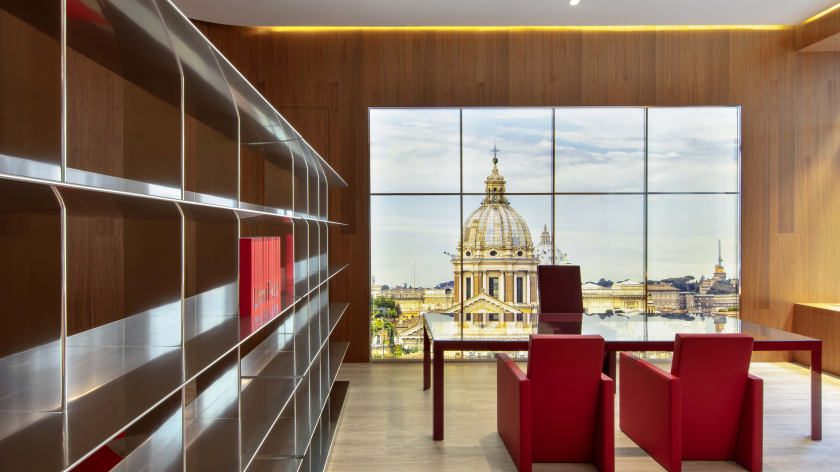 2021.02.01
"Executive Office", a new installation by Ron Gilad for UniFor
UniFor's showroom on 160 Madison Avenue hosts a new installation by Ron Gilad. A Naòs table and bookcase by Pierluigi Cerri, Elementaire armchairs by Jean Nouvel Design, and a vast window displaying the beauty of Rome, are the only elements used for the installation entitled "Executive Office".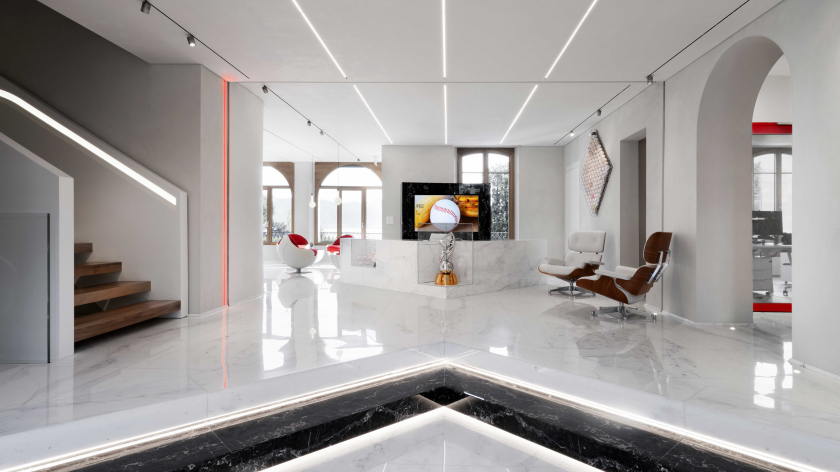 2020.11.18
The Molteni Group furnishes the new WBSC headquarters
The WBSC project started from a formal and sensorial challenge to encapsulate the history of this sport and its inclination for the future in a single tangible architectural gesture. The new headquarters is located inside a historical building on General Guisan Avenue overlooking Lake Geneva in Lausanne.