2019.01.23


Molteni&C|Dada opens third Flagship Store in London
Third London location in Brompton Road for the Molteni Group after the UniFor and Molteni&C Contract Flagship Store in Fitzrovia and the Covent Garden Molteni&C|Dada Flagship store.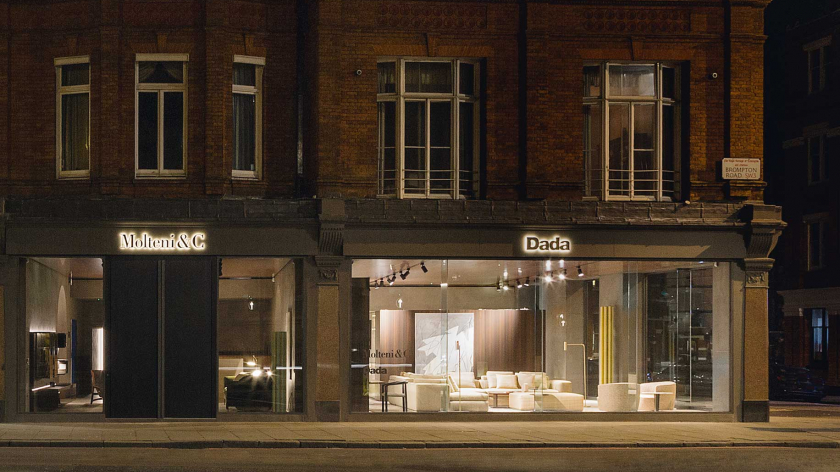 A prestigious location, with international visibility in the heart of the vibrant Museum District.
The new flagship will complement the Molteni store in Shaftesbury Avenue, Covent Garden, which opened in 2008, testifying to London's key role in the contemporary design scene.
The spirit of the new, unique, evolutionary project is in tune with modernity and true to the Group's stylistic principles, designed by Molteni Group's creative director Vincent Van Duysen.
"A project that succeeds in the search for good living by understanding the architectural making. This leads to feeling at ease in one of the most vibrant cities of the world, London. It is an honour to represent together with Molteni Group the quintessence of Italian design by creating a unique momentum in the city of bankers and creators."
Vincent Van Duysen.
The space encloses the very latest offering of the Group's two brands: Molteni&C and Dada, and symbolises a life marked by Italian flair with the intimacy of a private home. The concept defining this space – measuring over 700 square metres with five shop windows – is played out over two levels linked by a dramatic staircase. The new architectural design is faithful to the original features of the building: it has maintained its sense of space and preserved the perception of its original design from the late 1800s.
The separating walls subdivide generous volumes, interspersed by tall travertine marble-clad portals. Each zone provides a stunning backdrop for items instantly recognisable as Vincent Van Duysen's signature designs.
This high-impact scenic space contains, frames and enhances the products of the new collections designed by Vincent van Duysen, Rodolfo Dordoni, Ron Gilad, Foster + Partners, Jean Nouvel and Patricia Urquiola, amongst others. The first floor features the Group's iconic pieces. The Paul seating system and the wall-system Grid, the VVD kitchen, the Gliss Master wardrobe system and the Albert sofa are effectively showcased in each setting, alternating between Gio Ponti's final creations and a choice of pieces from the Heritage Collection. The lower floor, defined by a cornice of structural niches, individually lit and furnished like the wings of a theatre, is accessed by the downward staircase, and it opens into a large living-room featuring the Turner sofa, Gio Ponti's D.156.3 armchairs and the Password system plus the new AVA bookcase by Foster+Partners.
A large space is reserved for the kitchen area with a scenographic Prime kitchen alongside a sophisticated 505 wall set up as a Wine Cellar. Completing thearea is a monumental Armani/Dada Slide kitchen.
Molteni&C|Dada Flagship Store
245-249 Brompton Road, London SW3 2EP
#MolteniBrompton #MolteniGroup