2018.07.04


Summer Fever
Summer is a time for renewal – not least for the world's most renowned cultural institutions, which are ringing in the new season with exhibitions spanning the best of design, art and fashion.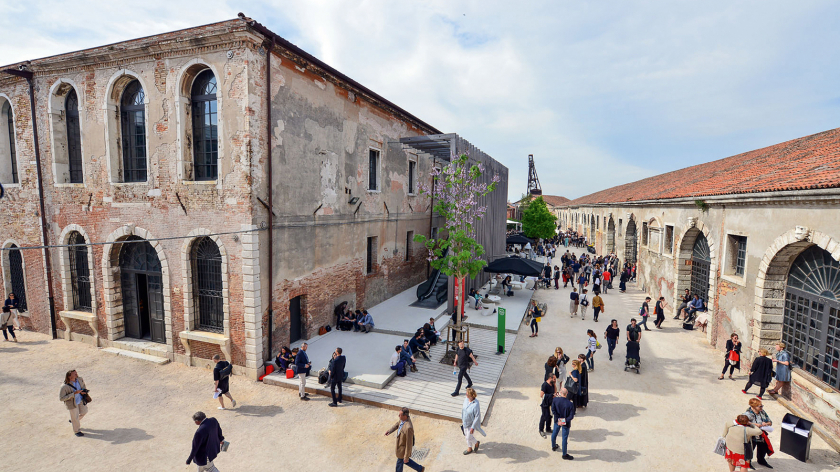 Summer is a time for renewal – not least for the world's most renowned cultural institutions, which are ringing in the new season with exhibitions spanning the best of design, art and fashion.
Heavenly Bodies: Fashion and the Catholic Imagination
Costume Institute of the Metropolitan Museum of Art
New York
10 May – 8 October 2018
What do faith and fashion have in common? Enough, it seems, to fill the Costume Institute's largest show to date. The exhibition explores the influence of sacred art and liturgical vestments on haute couture. Spread out across three galleries at the Met's main Fifth Avenue location and the Cloisters in northern Manhattan, it shows off some 150 designer garments, alongside works from the museum's collection of Western medieval and Byzantine art as a contextual backdrop. Among the standout pieces are a one-seam wedding gown by Balenciaga displayed in an ornate chapel, a sparkling cross-embellished dress by Gianni Versace set against a processional gold crucifix and a rare Elsa Schiaparelli design reminiscent of a 14th-century representation of Saint Peter by a follower of painter Lippo Memmi. On display in the Anna Wintour Costume Center are about 40 ecclesiastical garments and accessories on loan from the Sistine Chapel sacristy, offering a once-in-a-lifetime opportunity to see historic papal garbs, rings and tiaras outside the Vatican.
Junya Ishigami: Freeing Architecture
Fondation Cartier, Paris
30 March – 10 June 2018
Freeing Architecture is the first major architecture show staged at the Parisian contemporary arts foundation and also the first devoted to the work of the visionary Japanese architect Junya Ishigami. The Jean Nouvel-designed building plays host to 20 architectural projects conceived especially for this solo show. Through a series of large-scale models, drawings and films, the winner of the Golden Lion at the 2010 Venice Architecture Biennale documents the different steps that lead to the completion of a project. Each of Ishigami's designs finds context in natural surroundings, blurring boundaries between interior and exterior, man-made and organic, architectural constraints and freedom of form. The exhibition features a 1/10 scale model of a chapel, a structure of a garden house landscaped with real greenery, and a number of other dream-like landscapes dotted with trees and bodies of water. A series of events – including architecture talks, roundtable discussions with critics and musical evenings – will be held too, all with Ishigami himself in attendance.
Venice Architecture Biennale
Various venues, Venice
26 May – 25 November 2018
One of the most important events of the global design calendar, the Venice Architecture Biennale this year takes the theme Freespace, a title that celebrates the discipline's ability to enrich people's lives through designed space, free from political or social restrictions. This edition's curators – Yvonne Farrell and Shelley McNamara of Dublin-based practice Grafton Architects – have selected works and proposals from around the globe that best reveal this unique power of architecture. The chosen projects play with natural elements that are free to use, such as light, wind and gravity. Together with Venice Biennale president Paolo Baratta, the curators will also choose the best pavilion from all the national and international submissions, awarding the winner the coveted Golden Lion prize. Molteni&C subsidiary UniFor is proud to be a sponsor of this year's event.
Yayoi Kusama: Here, Now, I have reached the Grandest Start of my Life
Yayoi Kusama Museum, Tokyo
1 April – 31 August 2018
It opened its doors less than a year ago, but the Yayoi Kusama Museum in Tokyo has already established itself as an unmissable stop on the global art trail. Tucked away in the western suburbs of the Japanese capital, it is the first museum dedicated to the work of the celebrated avant-garde artist – and, with only 200 visitors allowed in each day, it is fast gaining as much of a cult status as Kusama herself. The gallery's second ever exhibition shows 40 paper works from its own collection, tracing the artist's six-decade career back to its origins. Ever since she was a little girl growing up in the Japanese Alps, Kusama has been processing the hallucinations from which she suffers by creating colourful, polka dot-filled drawings and visually striking sculptures. The show introduces visitors to the artist's creative starting point through dozens of her early watercolours, as well as a psychedelic installation titled Mirror Room and her most recent canvas series My Eternal Soul. Visit the museum's website (yayoikusamamuseum.jp) for ticketing details and entry times.