2017.08.01


Stavros Niarchos Foundation
UniFor furnishes Stavros Niarchos Foundation Cultural Center is located in Kallithea, the historic Athenian seaport district on Faliro Bay, designed by RPBW Renzo Piano Building Workshop.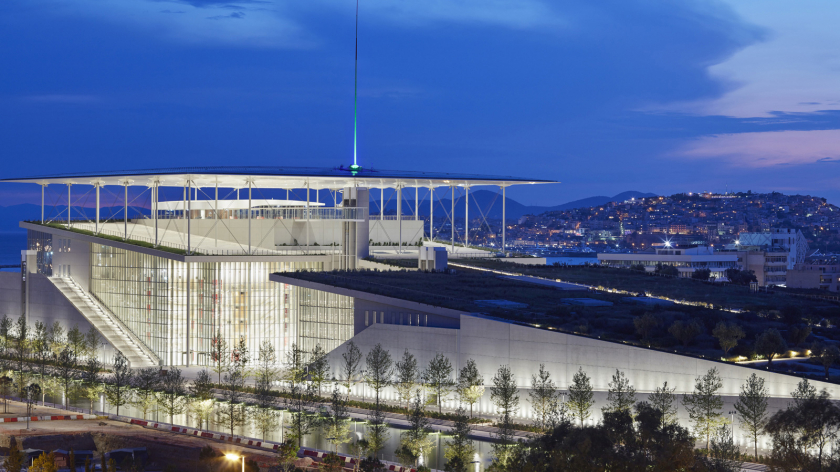 The Stavros Niarchos Foundation Cultural Center is located in Kallithea, the historic Athenian seaport district on Faliro Bay. The site is formed by a vast park on an artificial hill. Its sloping surface culminates at the top in the cultural center building, containing both the opera house and the national library. A public space, known as the Agora, provides access and connections between the two wings of the building. With its spectacular 360-degree views, the new complex re-establishes the district's relationship with the sea and with the rest of the city.
Its design was conceived using the most advanced anti-seismic technologies and innovative solutions in terms of environmental sustainability that have resulted in a LEED Platinum rating. At the summit of the hill is a panoramic terrace that forms the roof of the building. The concrete canopy roof over the terrace is topped by photovoltaic panels that supply most of the power needs of the entire complex. Lightness of form and functionality also characterize the interior architecture, where the offices, task areas, and meeting rooms are brilliantly solved by partition systems and furnishings aimed at simplification and comfort.
Series products
Parete RP Full-height partition wall system with aluminum frames painted pale gray, wood and glazed paneling, sliding and swing doors;
Sincro Sliding glass door system with three or six leaves that overlap vertically;
MDL System Conference tables, desks and workstations;
Naòs Wall-mounted bookcases in aluminum, painted bright green;
Misura Open-space workstations separated by P4 panels;
Neutra Storage and filing cabinets in three heights, drawer pedestals, and personalized furnishings.
Custom works
Open-space workstations: 178
Executive offices: 139
Conference rooms: 13
Filing and storage area: 267 cabinets in three heights
Parete RP: 1,870 sq m glazed panels; 450 sq m solid panels
Doors: 68 sliding; 12 swing
Sincro: 12 sliding doors with three leaves; 3 sliding doors with six leaves
Design&Architecture
Renzo Piano Building Workshop with the firm Betaplan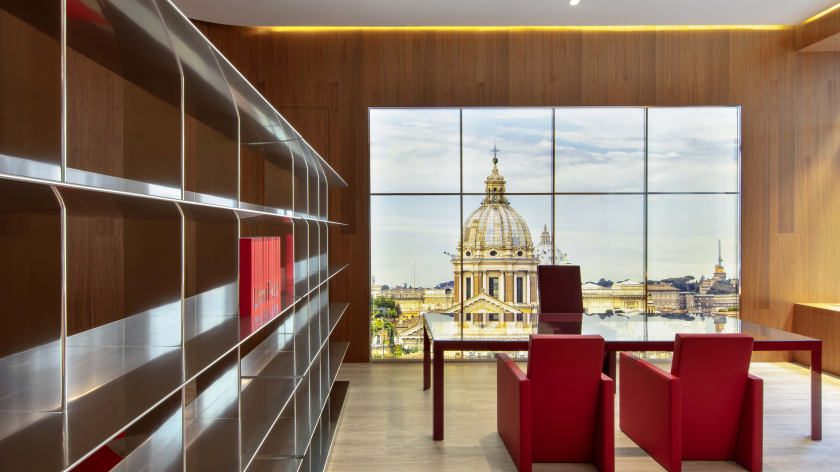 2021.02.01
"Executive Office", a new installation by Ron Gilad for UniFor
UniFor's showroom on 160 Madison Avenue hosts a new installation by Ron Gilad. A Naòs table and bookcase by Pierluigi Cerri, Elementaire armchairs by Jean Nouvel Design, and a vast window displaying the beauty of Rome, are the only elements used for the installation entitled "Executive Office".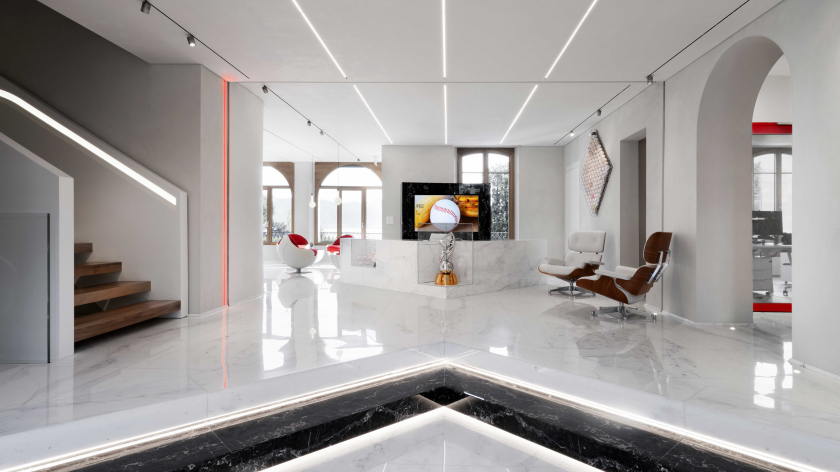 2020.11.18
The Molteni Group furnishes the new WBSC headquarters
The WBSC project started from a formal and sensorial challenge to encapsulate the history of this sport and its inclination for the future in a single tangible architectural gesture. The new headquarters is located inside a historical building on General Guisan Avenue overlooking Lake Geneva in Lausanne.