2018.06.05


The Melting Pot
As Molteni&C|Dada opens a new showroom in London, we take the pulse on the creative scene in the British capital, focusing on three design duos with the world as their market.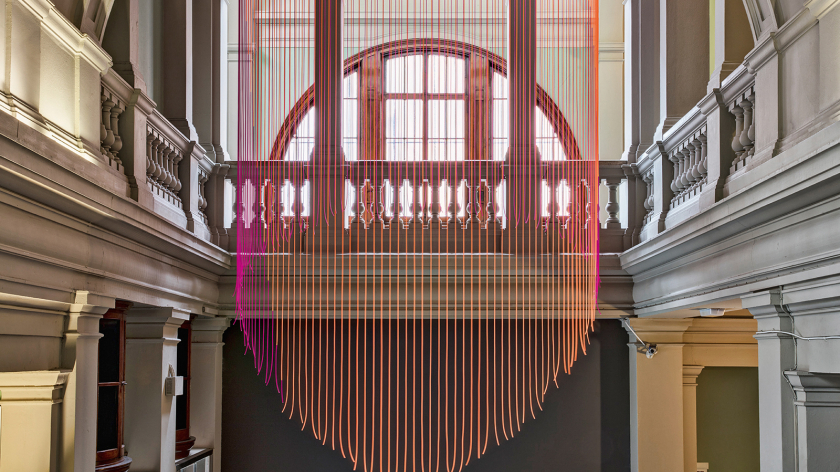 As product design has shifted from the showroom to the gallery, there has been a rise in the 'total' approach to exhibition and installation design. Echoing the practices of the mid- to late-20th century, designers are working not only with form and function in mind, but communication and performance too. This multifaceted approach is growing, thanks to a renewed interest in the applied arts, the viability of working across borders – both national and disciplinary – and the potential of collaborative practice. Here are three London-based practices whose work embodies this philosophy.
Soft Baroque
Sasa Stucin and Nicholas Gardner create work with conflicting functions and imagery. From Slovenia and Australia respectively, they met while studying at the Royal College of Art (RCA) in London and, after graduating, founded the studio Soft Baroque, which works between object design and art. Their pieces are inspired by everything from YouTube videos and Photoshop tools to architecture on film and primitive design aesthetics.
You've been travelling a lot over the past year – contributing to exhibitions and fairs in Stockholm, Melbourne and St Moritz, among others. Now you're back in London, what are your thoughts on the design scene here?
SS: With London, I've accepted that the only way to be here is to have one foot in and one foot out – being part of the soup here, while dipping into the wider, international conversation. There's community here, but it's dispersed. That bothered me for a while – I had a grand idea of having a big community, with a massive warehouse where 30 people would sit and have lunch together – but there isn't room to do that in London. The design scene here is formed more like a group of islands – designers move around and bump into each other, creating bridges, and moving on.
How has not having a permanent base affected your work?
NG: It's a real challenge. We've had to keep putting longer-term studio projects on the back-burner, and this year we want to be in a position where we have a body of work that we can continue to draw from, rather than having to be reactionary, which we are at the moment. It's much easier to develop projects with a permanent space. Although as an industrial designer you could just work on a computer, I really enjoy making things. Our final shapes tend to take form in the workshop – they involve testing and shaping with our hands, and you need space for that.
SS: I've always been really interested in nomadic living, but yes, with our practice it's impossible. It involves so many tools, samples and experiments that, to be nomadic, we'd have to change our work so much it would end up having nothing to do with what we do now. For now, our priority is giving ourselves a bit more time and space, to focus on doing the work we enjoy.
How do your different expertise inform your practice?
NG: We're working on a few pieces at the moment – photographic furniture – which are a good conjunction between Sasa and I. We were inspired by seeing some tradesmen cutting up old advertising board to use as a workbench during an exhibition-build. They looked like panels from an ad for a show home – really surreal – and from there we started thinking about large-format printing as a material in modern society. We're interested in maintaining a craft process, and where craft and digital culture, or craft and contemporary design aesthetics, intersect. Sasa is from an image-making background, I'm more furniture, and our work can be about image-making or object-based – and the two can be woven together or quite separate.
SS: I've always been obsessed with exploding images into objects – making something 2D, spatial. And Nic explores composites, and how materials can be sandwiched together to create a new value. We've been thinking about this idea over the past few years, collecting references and considering whether the pieces should be functional or decorative, and not entirely meaningful.
Raw Edges
As Raw Edges, Yael Mer and Shay Alkalay create furniture, installations and products with a focus on playfulness, curiosity, colours, pattern-making and movement. They met at the Bezalel Academy of Arts and Design in Jerusalem, then went on to study the Design Products MA at the RCA, and founded their studio soon afterwards.
What inspired you to work in a collaboration, rather than going solo?
YM: It was never our intention to work together – we each had our own interests, different jobs, different ideas – and although we studied together on both our BA and MA, we never collaborated. It was only after graduating, when we worked with friends on a project in China, that we realised we actually worked together really well.
Could you describe the balance of work between you?
YM: Often when people collaborate, they represent different sides of the process. Unfortunately for us, we have similar skill-sets – both on the creative side. There are differences, and knowing each other so well means we can use our strengths according to what is required – to be more playful or more functional – and adopt each other's skills and processes.
How has being a collaborative studio shaped your practice?
YM: Neither of us are particularly verbal, and the fact we need to share ideas means we can practise explaining and opening up our ideas. A lot of interesting things can come from talking, it forces you to work stuff out, zoom in or zoom out.
Your work takes in a broad range of media, but maintains a clear conceptual route. Do you think working as a pair helps to maintain that balance of range and focus?
YM: Actually, we find it's the opposite. With two minds, it can be harder to find focus. Everything take longer, but the complexity of it is good – it means there are more layers to our practice.
What would you say defines the contemporary design scene in London?
YM: I have no idea. It's such a multicultural space, it's hard to define. I think it's also a difficult question for a designer to answer – you need some distance from the context to be able to see it.
Studio Glithero
For Tim Simpson and Sarah van Gameren, founders of Studio Glithero, the key ingredients of their practice are time and transformation. Both graduates of the RCA's Design Products MA, they create products, furniture and time-based installations, and are equally interested in process – and the potential for performance – as they are in the finished item.
What have the key concerns of the studio been recently?
SVG: Adjusting to the new political climate, and trying to figure out where it's going. The reason we've stayed in London is the cultural nourishment it offers and the feeling that anything is possible. Right now, it feels like we're in limbo – the general sentiment is quite cautious as we all work out our place and position in this new social and political climate.
Do the potentials of the crossover of art and design practice [in London] suit your work?
SVG: Yes, we've always thought that this kind of practice is possible here, because there's no preconception about what a design office should be. It can result in strange plans that are hard to place, but it's important to make those projects a reality.
What do you find is the most effective way to show your work?
SVG: We've always had a studio with a dual face. On one hand, we have the products that we do with either production companies or galleries – we see them very much as a spin-off of our thinking. On the other, the part we really enjoy is installations. They represent our creative thinking or the manifestation of a principle, and we really enjoy bringing that to the public. When planning an installation, we always talk about the choreography of a process – how the work, the process and the public will interact.
How do you decide the balance of work between you both?
SVG: We're both multifaceted, You know how you always had someone in your class at school who was really good at drawing? Neither of us were that person – we were the ones who were quite good at everything. We're versatile. We can pick up each other's tasks, but we also need each other. Tim is a lateral thinker, and I'm more focused – it's the dynamic we need for the incubation of new ideas, and it's our ideas that form the through-line in our practice.