2022.12.06


UniFor New Milano Showroom
A project by Herzog & de Meuron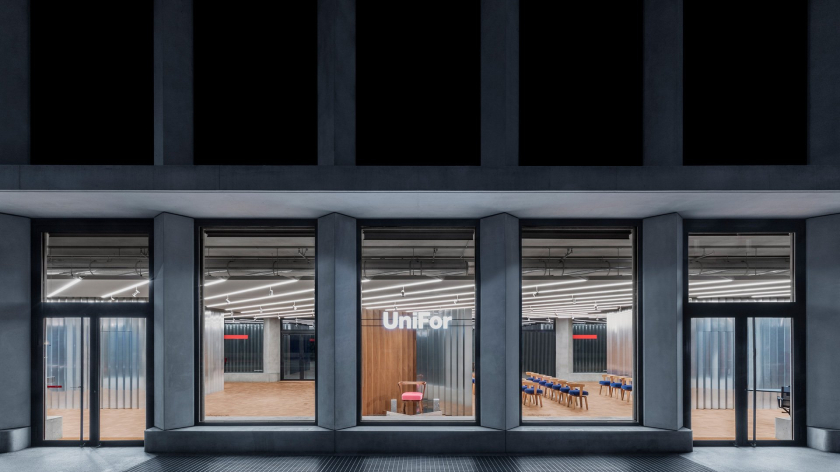 UniFor confirms and renews its commitment to architecture and design with the opening of a new site in Milan.
A showroom, a window, a knowledge lab, brought to life by Herzog & de Meuron, inside one of the most significant architectural works designed by the firm for the city: Fondazione Giangiacomo Feltrinelli.​ Fondazione Giangiacomo Feltrinelli, with its long section and spire roof seamlessly integrated with the façade, has become one of the most iconic buildings in Milan heralding its transformation into a futuristic metropolis. The regular rhythm of the triangular columns and transparency are the most defining and identifying elements of the building designed by by Herzog & de Meuron.
The interior project: architecture on a smaller scale
​The interior project reflects the same principles of regularity and continuity of the architectural building for Fondazione Giangiacomo Feltrinelli, simply on a smaller scale. Thus, the architecture and interiors speak a common language. Repetitions, primary yet surprising geometries also permeate the showroom, characterised by three-dimensional boiseries that delimits the perimeter of the interior.
A robust yet simple flexibility
UniFor new Milan showroom is defined by a robust yet simple flexibility. It has no separate rooms but is rather organised in different zones; It can be reconfigured into a collection of smaller showrooms, an event space, an area for more intimate private meetings or larger public gatherings.
UniFor new Milan showroom is an environment representing the brand consolidated know-how in highly complex custom design, tangible in the tailor-made interior architecture build for the purpose.
The Giangiacomo Feltrinelli building, home of UniFor new Milan showroom by Herzog & de Meuron, separates two different worlds: the urban and hectic Viale Pasubio, and the Pasternak gardens, with its slower and more laid-back pace. ​
Towards the city, hard and reflective aluminium surfaces are the dominant material. A softer character faces the garden square, where velvets in strong primary colors are used creating an interesting contrast to the point where the boundaries between these two materials begin to blur.

UniFor Showroom
Viale Pasubio, 15, Milan
Mon - Fri: 8.30am - 6.00pm